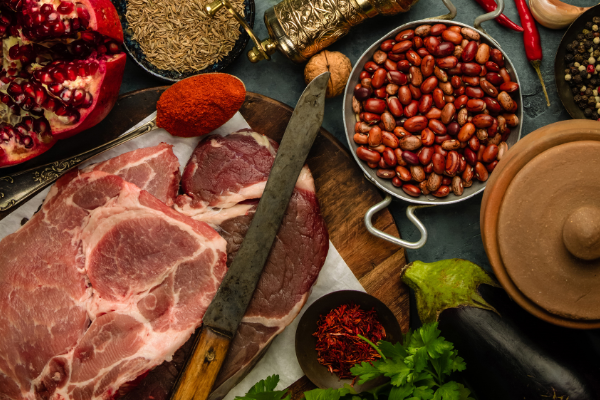 Cumin and Szechuan pepper lamb with steamed aubergine and Botijo Rojo Garnacha

William Long isn't such a fan of Christmas, so although he loves cooking, he usually avoids the traditional British meal of turkey and brussels sprouts. This year he plans to try an Ottolenghi lamb recipe, which as he comments is «Typical Ottolenghi style, nice and complicated with three days marinating of everything». Perfect for serving with a fruity, old vine Garnacha like Botijo Rojo. 
Ingredients
Serves 6.
1.8kg bone-in lamb shoulder, patted dry and pierced all over with a skewer
350ml dry white wine
1 whole garlic bulb, top fifth cut off to expose the cloves
6 large, mild red chillies, cut in half lengthways and deseeded
6 banana shallots, peeled
2 cinnamon sticks, roughly crushed
4 aubergines, green tops trimmed
1½ tbsp roasted and salted peanuts, roughly chopped
3 spring onions, green ends very finely sliced on an angle
2cm piece fresh ginger, peeled and finely cut into julienne strips
2 tbsp coriander leaves, finely sliced
1 tbsp rice-wine vinegar
For the marinade:
Flaked sea salt and black pepper
1½ tbsp cumin seeds, lightly toasted
1 tbsp Szechuan pepper
1¾ tsp chilli flakes
5 small garlic cloves, peeled
5 black garlic cloves
90ml soy sauce
60g soft dark brown sugar
65ml Chinkiang black vinegar, or normal rice-wine vinegar
Method
Put the lamb skin side up in a 35cm x 25cm high-sided baking tray, then rub all over with a tablespoon of flaked salt and plenty of pepper. In a spice grinder or mortar, blitz or grind the cumin, Szechuan pepper and chilli to a coarse powder. Add both garlics and the soy sauce, and blitz or pound to a smooth paste. Tip into a bowl, stir in the sugar and vinegar, then massage all over the lamb. Cover with clingfilm and refrigerate, ideally for two days and at least overnight.
Take the lamb out of the fridge two hours before you want to cook it, so it comes up to room temperature. Heat the oven to 160C (140C fan)/320F/gas 2½. Surround the lamb with the wine, 500ml water, the garlic bulb, chillies, shallots and cinnamon. Roast for an hour and a half, then baste the lamb and cover tightly with foil. Return to the oven and roast, covered, for four hours more, until very soft. Turn up the heat to 190C (170C fan)/375F/gas 5, remove the foil, baste the lamb again and roast for another 15 minutes, until browned and slightly caramelised. Leave to cool for 10 minutes, then skim off as much fat as possible from the top of the cooking juices.
Half an hour before the lamb is ready, cut the aubergines into 2cm-thick x 7cm-long batons, then toss in a large bowl with two and a half tablespoons of flaked salt. Fill a large saucepan with enough water to come 3cm up the sides and bring to a boil. Put a large steamer over the pan, then lay in the aubergines and cover with the lid (or seal well with foil). Turn down the heat to medium-high and steam for 18 minutes, until very soft but holding their shape. Transfer the steamer basket to the sink and leave to drain for a few minutes.
Transfer the aubergines to a large bowl with the peanuts, spring onions, ginger and coriander. Remove the chillies and garlic from the lamb. Squeeze the garlic cloves out of their skins, and add to the aubergines with the chillies. Stir together gently, being careful not to break up the aubergines.
Transfer 75ml of the lamb cooking juices to a small saucepan on a medium heat. Add a tablespoon of Chinkiang vinegar and keep warm. Transfer the lamb, shallots and remaining jus to a large platter and arrange the aubergine beside it. Pour the warm jus and vinegar on top of the aubergines, and serve.
Pairing
Spices can clash with very tannic reds, so the ideal pairing is with a softly fruity red like this Garnacha from single estate old vines in IGT Valdejalón. Bright with a jewel-like hue, it displays exuberant aromas of cherries, raspberries and a touch of black pepper. On the palate it is medium-bodied, with silky tannins and pleasing minerality. The finish is long and balanced.