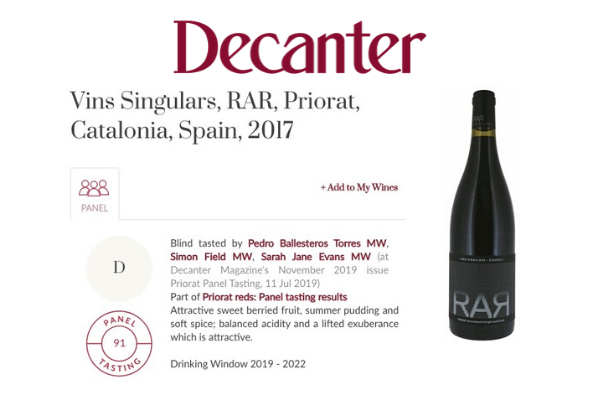 New vintage of 91-point scoring RAR
The 2018 vintage of RAR has recently been released. With the previous vintage awarded 91 points by Decanter and the 2018 Priorat vintage said to be of very good quality, this limited edition wine will not be around for long.
DECANTER MAGAZINE NOVEMBER 2019 – 91 POINTS – HIGHLY RECOMMENDED
 «Attractive sweet berried fruit, summer pudding and soft spice; balanced acidity and a lifted exuberance which is attractive.»
A personal project of the winemaker of Scala Dei, Ricard Rofes and his wife, Magda Pellicer, the Garnacha, Cariñena and Syrah grapes are grown on a very small scale on a spectacular estate at more than 500 metres altitude in the heart of Priorat, where vines of 30 to 90 years of age grow on steep rocky terraces of the typical Llicorella soil.
The 2018 vintage in Priorat was not as hot and the vines did not suffer the subsequent stress as in many recent years. The wines are said to be very balanced in terms of structure, flavour and acidity, and RAR is a good example, with bright red fruit, freshness, a silky texture and a long finish.