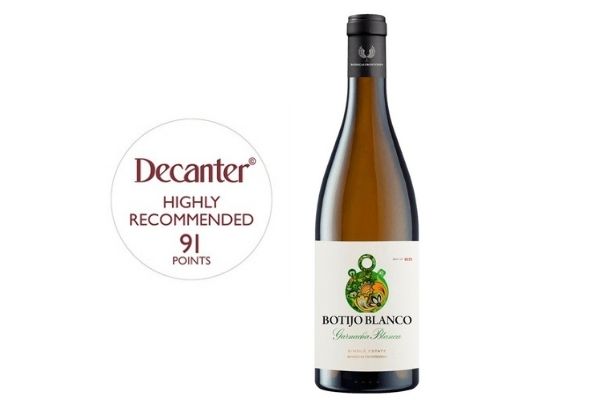 Botijo Blanco awarded 91 points by Decanter
For the second year running, Botijo Blanco, made from sustainably farmed 100% Garnacha Blanca grapes grown in IGP Valdejalón by Master of Wine, Fernando Mora, has been awarded 91 points by prestigious British wine publication, Decanter, in their tasting of indigenous Spanish whites.
In the panel tasting, Sarah Jane Evans MW, Matthew Forster MW and Beth Willard tasted 149 examples of white wines made from indigenous Spanish grapes including Palomino, Verdejo, Tempranillo Blanco, Albariño and Viura.
Botijo Blanco 2019 was described as displaying "Light floral perfumes. Supple succulent palate with crisp acidity, warm melon, and passion fruit charm. Rich and mouth filling with an elegant mineral twist on the finish."
Taster Matthew Forster MW commented that 'Garnacha Blanca was the takeaway for me,' adding: 'We found some illuminating examples – lovely wines, open-textured, rich and concentrated with the oxidative characters lending complexity rather than dragging the fruit down. I think there's plenty of mileage in that grape variety.'
Botijo's big brother Bodegas Frontonio's Microcósmico Garnacha was also awarded an outstanding 95 points in the tasting. The 2018 vintage of Botijo Blanco was also awarded 91 points in Decanter Magazine's tasting in 2020.
For more details on Botijo Blanco and Rojo, see here.
SEO: