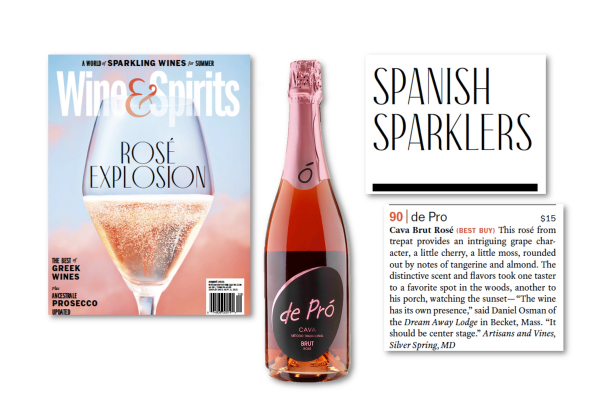 90 Points for «Best Buy» De Pró Brut Rosé Cava
De Pró Brut Rosé Cava was among one of just 17 Spanish sparkling wines to be awarded 90 points and a "Best Buy" rating in a panel tasting held by Wine & Spirits Magazine in the USA. Published in the August issue of the leading consumer wine magazine, the panel tasted 130 Spanish sparkling wines, of which 26 were rated "exceptional" (90+ points) and 17 as "best buys" due to the value for money that they represent.
The panel, which included wine buyers and sommeliers from top name restaurants, highlighted the "intriguing grape character" of this Trepat rosé describing it as: "A little cherry, a little moss, rounded out by notes of tangerine and almond. The distinctive taste and flavors took one taster to a favorite spot in the woods, another to his porch, watching the sunset – "The wine has its own presence," said Daniel Osman of the Dream Away Lodge in Becket, Mass. It should be center stage."
The Cava is imported into the USA by Artisans and Vines. For exports to other countries, please contact us.