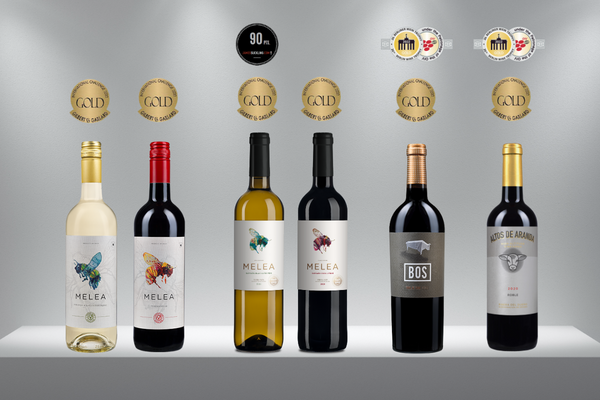 Golds and great scores for Long Wines once again in international wine competitions
Altos de Aranda, el Bos, Melea Organic, and Melea Single Estate have all been awarded gold medals in the renowned Gilbert & Gaillard and the Berliner Wein Trophy international wine competitions, which have recently released the results of their 2022 editions.
Melea Organic's new Single Estate range from DO Terra Alta has already seen particular success, with both their red and white earning gold in France's Gilbert & Gaillard competition. The Melea Single Estate white Garnacha Blanca Viognier 2021 was also awarded 90 points by James Suckling, who noted that the wine is "an elegant, and bone-dry rendition with 90% garnacha blanca and 10% viognier, showing limey fruit and green apple on the palate with fresh, chalky acidity. From organically grown grapes." Melea Organic's white Verdejo and Sauvignon Blanc 2021 and the Melea Organic Tempranillo 2021 also won gold medals in the Gilbert & Gaillard International Wine Challenge.
Altos de Aranda's 2020 new Roble from DO Ribera del Duero  – with 3 months' oak aging – also won a gold in both the Gilbert & Gaillard and Berliner Wein Trophy as well as El Bos's 2020 Tinta de Toro Roble from the DO Toro. Both wines are intense reds, with long, smooth finishes that were clearly appreciated by the judges.  Altos de Aranda Roble 2020 had also previously been given a 90-point score by James Suckling. 
Gilbert & Gaillard has been one of France's essential wine guides for over two decades. All wines rated by the Gilbert & Gaillard team are tasted blind and marked according to the internationally popular 100-point scale. 
The Berliner Wine Trophy has become Germany's most influential wine competition and the world's largest international wine challenge under the patronage of the OIV and the UIOE. The number of samples submitted is steadily growing with almost 15,000 entries a year from wineries all over the world.