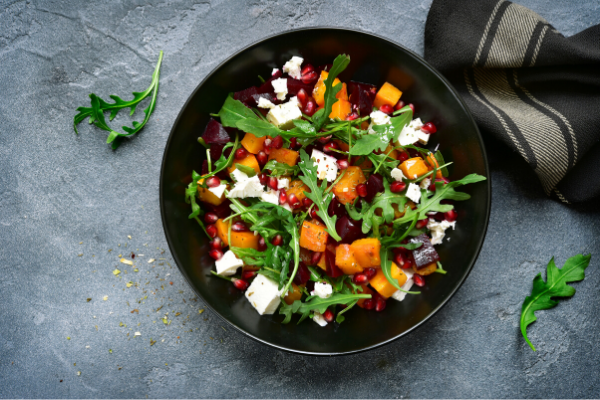 Homegrown pumpkin, beetroot and pomegranate salad with feta and Pléyades rosé
As well as being our resident artist and helping with marketing – she designed the bees that feature on our relaunched Melea Organic range – Barbara Long is also known as the "Queen of Salads".  She said, "This is makes a great colourful Christmas starter, especially if you have a lot of vegetarians to feed. I use my own pumpkins, beetroot and pomegranates. It's a recipe I've made up myself – it's really a combination of the traditional Spanish curly endive and pomegranate salad combined with something more middle eastern, inspired by Ottolengi, but made simpler! Every time I make it I change the ingredients a little. This is the version I think I will be serving up for the Long Wines Christmas lunch – we have a huge pumpkin to get through this winter!" 
Ingredients
Serves about 8 as a starter.
Head of curly endive (outer green leaves trimmed) or other bitter leaves such as rocket
Medium sized pumpkin
Couple of beetroot
200-300 grams crumbled feta cheese (miss out completely if feeding vegans)
Good handful of toasted walnuts or pumpkin seeds
Seeds from one large or two small pomegranates – pith removed
2-3 teaspoons of sumacFor the dressing:
4 tablespoons Tahini paste
2 crushed garlic cloves
Water
Lemon juice to taste (about one lemon)
Method
Put the beetroot in the oven (200 c) covered with a bit of olive oil and salt. Depending on size will take between 30 and 60 mins.
Chop up the pumpkin into large bite sized pieces, drizzle with olive oil and put in oven alongside beetroot for 15 minutes or so.
Toast whatever nuts or seeds you are using
Clean curly endive or rocket and dry thoroughly. Put in large bowl or dish.
Make the dressing: mix the tahini paste with the crushed garlic lemon juice and add a little water. Consistency should be like single cream.
Pairing

Salads like this would go well with a fresh, well-balanced white but there is something about the jewelled hue of pomegranate seeds and the purplish-pink stain of beetroot that cries out for a rosé. Garnacha – especially from its native area of Aragón – makes vibrant, fruity rosés like the Pléyades Garnacha Rosado. Dry but rounded on the palate it is serious enough to pair with salads and other starters or mezze platters as well as seafood, rice dishes and pasta.  Like our other wines from the DO Campo de Borja it also offers exceptional value-for-money.