Finca Mónica Rioja is inspired by women's role in the making and selling of wine over the ages. Not just those at the forefront in roles such as winemaking, but also those hidden behind the process of picking the grapes, designing the labels and getting the wine through the supply chain and onto customers' tables across the world. We have interviewed some of the women involved in this process – from the winery, the export and sales team at Long Wines and external marketing agencies – to find out how they got into wine and the role that they play in the production, marketing and sale of Finca Mónica.
Sandra Fernandez Mendizabal, Administration and Logistics Manager, Burgo Viejo winery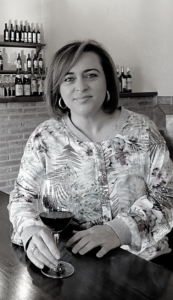 Sandra started her job back in 2004, when the winery that makes Finca Mónica began bottling its own wines. She says that she has seen a great deal of change in her role:
" My career has evolved from managing small orders for the national market to sending deliveries to clients all over the world – Russia, China, Brazil and Germany. And my job is always changing as it is influenced by so many factors (Brexit, USA tariffs, COVID19 etc.) so I'm always learning. My work involves contact and coordination with all the different departments from production, to ensure that the orders are ready, to sales to ensure that the orders and payments are going through, to treasury…everyone in the winery, as well as external stakeholders such as the Rioja Regulatory Council."
Being born and bred in Rioja, Sandra says that wine has always formed part of her life: " My father was a vine grower, and therefore I am very aware of the work that goes into caring for the vines and growing healthy grapes. Harvest time is a really busy time for me, as we have to manage the process of getting the grapes from the vines to the winery in the best condition. It's a stressful period but also one of excitement and joy when the year's work is finally in the winery. I love wine, particularly red wines from this area of Rioja. "
Barbara Long, Creative Director, Long Wines
Barbara Long is a visual artist and art therapist. Since helping her husband William to set up Long Wines, as a director of the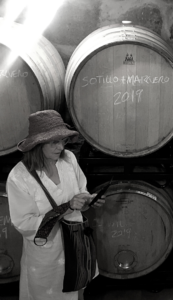 company, she has drawn on her artistic skills and her previous experience in marketing and PR for cultural and environmental organizations to help with marketing. When Long Wines decided to develop the story behind Finca Mónica and relaunch it with a more eye-catching and inspirational label, Barbara was involved in the process of briefing the designer, as well as creating and hosting the video tasting.
Barbara explains a bit more about her relationship with Spanish wine: "In the 26 years that I have lived in Spain and with William being involved in the wine industry, I have really enjoyed seeing how Spanish winemakers are making so much more of what Spain's diversity of climate, terroir and native grape varieties can offer and how the rest of the world is getting to know more about and enjoy these wines. However my expertise is really in what the bottle looks like, rather than what's inside, and this has changed enormously in the past decade with Spanish producers coming up with wine labels that can really compete on the world stage. We have been lucky to work with Spain's leading wine label designers, such as Marta Lojo and Pablo Guerrero Estudio – the designers behind Finca Monica.
When I first came to Spain the wine industry was a very male dominated world – for instance, I think there were no women in William's international sales and marketing team at the company he worked for – and the typical Spanish working day which ended around 8.30pm or later with a long boozy lunch in the middle made it virtually impossible for women with children to get far in the industry. Thankfully that is changing, and at Long Wines we offer as much flexibility as we can in terms of working hours, although there is still a long way to go in many other companies.
What I just love about Finca Monica is of course the label – it's a really strong visual image with an equally strong message behind it about the role of women in the world and it feels very much in tune with the times."
Marta Collado, Administration and Finance Manager, Long Wines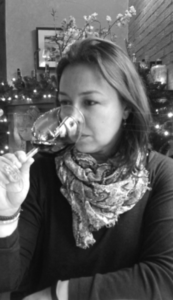 Marta has worked at Long Wines for over 18 years. She explains that everything started as a matter of chance:
"A friend that also knows William mentioned that her "English friend" was setting up his own business and needed someone to help a few days a week. This worked perfectly for me, as my daughter Alba was a baby then, so I could fit it around my childcare. I remember working with William  up in the attic of his house with just one computer, we've grown a bit since then!"
Marta doesn't come from a winemaking family and she actually studied Art History, but wine has always been her preferred choice when she enjoys a drink with friends. In the almost twenty years she has worked with Long Wines, she has become a real wine lover and loves pairing wines with special moments and music. Without Marta's management of the financial side of the business, Finca Mónica would probably not exist. She is in charge of managing the budgets, invoicing and payments… and also the production of special back labels for clients outside the EU, for example, in the USA.
Finca Mónica fits the profile of her ideal red wine, " I like fruity red wines, sometimes with a kiss of oak, but the fruit should always predominate." Although she fell into the world of wine, she says that is great to work in an industry that "starts out in the fields and goes through many different phases, with lots of work behind each one, until someone uncorks the bottle and enjoys a glass."
Elena Ramos, Logistics Manager, Long Wines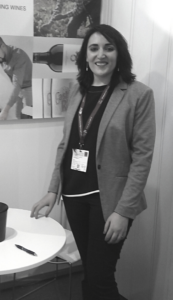 A biology graduate with a Masters in viticulture and winemaking, Elena Ramos has been at Long Wines for over a decade, joining after working vintages at wineries in both New Zealand and Spain. After first working as product manager, Elena Ramos took on the role of Logistics Manager in 2019. Her job entails making sure that the bottles of Finca Mónica arrive with our clients all over the world on time and in a good condition.
She says, "I try to anticipate any problems that could arise, and I'm used to working as quickly as possible to avoid any delays in the delivery of merchandise so our partners are never out of stock."
When asked if she has a favourite wine among the wines in the Long Wines portfolio, Elena says "I like all the wines we work with, it really depends on the moment or food I'm eating.  For example, young red wines like Finca Mónica Tempranillo are great with tapas, and an oak-aged Crianza or Reserva works well with stews or roast meats."
When not at work, Elena likes spending time with her two young children.
Mónica Saldaña, Customer Service Manager, Long Wines
Our very own Mónica joined Long Wines back in 2015. It was her first job in the wine sector, as previously she had worked in administrative roles in many sectors, most recently as advertising coordinator for interior design and video game magazines. She says she was glad to make the move to Long Wines, as she has always been interested in wine, and since joining she has learnt a lot about winemaking and wineries.
Mónica's role as commercial assistant means that she is in constant contact with the clients, making her job dynamic and exciting. When asked what a typical day is like, she replies: "No two days are the same! Our priority is to answer customers' enquiries quickly and effectively, so I usually start by checking my emails, getting back to their questions and sending anything they need.We work as a team to solve any problems as quickly as possible, holding team meetings to cover important issues. The rest of the day is spent preparing offers, sending information to customers, preparing reports, entering competitions and dealing with all the other things that come up."
Mónica says she enjoys her job and even though it can be a little stressful at times, she has a great relationship with her colleagues. As for Finca Mónica, she says, "I love the label, it is very feminine, elegant and visually appealing. The wine itself is a must in my house for serving with Iberian ham, I love its modern profile that is both freshly fruity and richly textured."
She comments that before joining Long Wines she expected the wine industry to be more "masculine" but was delighted to discover many women in ever more prominent roles – managing wineries and working as winemakers, export managers and buyers.
Anna Harris-Noble, Director, Taste Exchange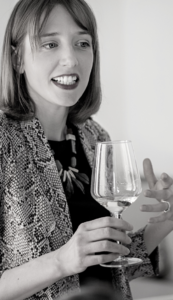 Anna has worked on a freelance basis for Long Wines since 2017. Born in the UK, she studied French and Spanish and fell in love with Spanish wine on a year spent living next to a winery in a  village in Navarra. She then worked in a wine and food specialist communications agency in London on accounts that included Wines from Rioja and Champagne Lanson, while studying to WSET Level 4 Diploma. She moved to Madrid to work in the marketing department of a major winery group in 2011. It was after having her first child and setting up on her own, that she started to work with Long Wines.
Anna was involved in the process of establishing the brief and developing the Finca Mónica brand, coordinating the work of the designers and winery. "We were aware that Finca Mónica had greater potential. The wines taste fantastic, and win many awards, but the label didn't really express the fact that this is quite a special Rioja, not a blend like so many, but made from grapes grown solely in the winery's own vineyards around Monte Yerga. This means that it has a ripe, fruity profile but with freshness from the altitude of the vines, but is still classically Rioja. The name "Finca Mónica" reflects all the work by women that goes into its creation."
From writing the back labels for the wine and the copy for the sales materials, to producing POS materials and updating the news about the brand, Anna continues to play a key role in developing Finca Mónica. "It is always exciting to see a brand that you've been involved in creating on the shelf or being shared by consumers on social media. " Anna explains, "But my favourite part of the process was visiting the winery, meeting the people that make it and feeling the sunshine that ripens the grapes. It is very near the village that I spent a year living as part of my degree twenty years ago, so it felt like I'd come full circle. It's a cliché, but wines are truly born in the vineyards."
The future
To ensure that more women enter the Spanish wine industry, Finca Mónica is sponsoring a scholarship for women based in Spain who are starting their careers in the wine sector to win a WSET2 course to enhance their knowledge of international wine. More details will be available soon.