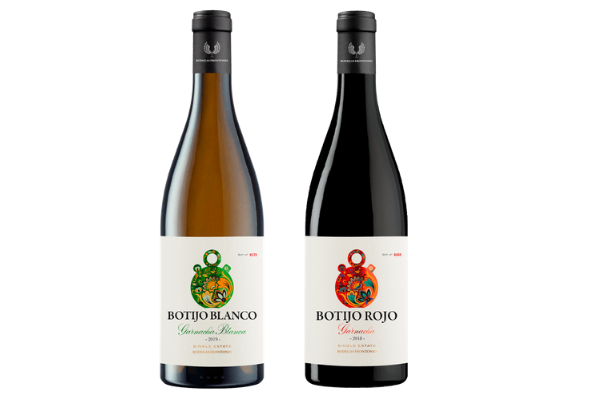 90+ scores for newly repackaged Botijo
Botijo 2019, our fresh and fruity Garnacha range made by Bodegas Frontonio, has just garnered scores of 90+ points in Robert Parker's Wine Advocate, for a vintage that has also been newly repackaged in Burgundy bottles.
Still featuring the same eye-catching design by Studio Marta Lojo of a botijo – a traditional clay vessel used by vine growers to quench their thirst – the new bottle shape reflects the Burgundy-inspired freshness of the wine, which is made from old bush vines, with no oak or "make-up" to mask the purity of the fruit.
The Botijo wines are sourced from sustainably managed parcels of 20-50 year old vines at 460 metres altitude in Épila. 2019 is the first vintage to be made entirely in the winery's new facilities – a 240 year-old cave where gravity is used to process the fruit as gently as possible, under the watchful eyes of Fernando Mora MW and Mario López.
Botijo Blanco is now made from 100% Garnacha Blanca and spends 10 months with its fine lees in underground concrete tanks to add body and creaminess on the palate. It was recently given a rating of 90 points by Robert Parker's Wine Advocate, while the 2019 vintage of Botijo Rojo – a 100% Garnacha – was awarded 90+.
Speak to your sales contact to order these excellent vintages of these newly repackaged wines, which prove that the simple things in life are often the best.