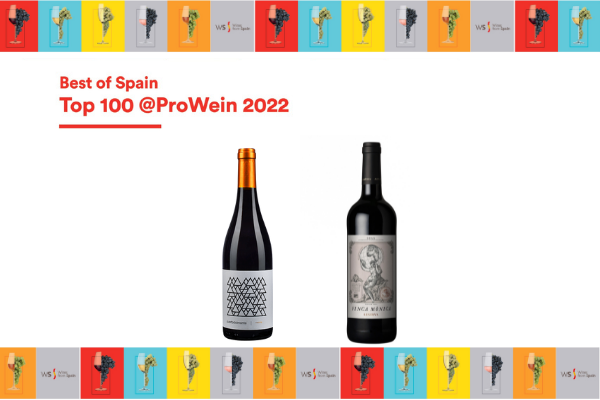 Puerto del Monte and Finca Mónica in the Best of Spain Top 100 @ProWein 2022
ProWein is one of the busiest and best trade events in the wine calendar and we've missed it the last two years as it has been cancelled due to the pandemic. So we're excited that we'll be back in Dusseldorf from the 15-17 May on stand D80-9 in Hall 13.
Just as exciting is the news that Puerto del Monte Mencía 2019 from DO Bierzo and Finca Mónica Rioja Reserva 2017 have been selected to represent the very best of Spain in the Best of Spain Top 100.
Organised by the German wine publishing house, Meininger Verlag, in association with the Spanish export body ICEX, the two-day tasting aims to show the very best Spanish wines across a range of styles and price ranges.
Both Puerto del Monte Mencia 2019 and Finca Mónica Rioja Reserva 2017 were given a two-bunch rating for offering an "Excellent" price-quality ratio in categories I and II (i.e. up to a maximum of 5 euros ex cellar) described as "absolute best buys for Iberian everyday enjoyment at a high level." Proving once again, that the Long Wines range stands out for offering exceptional value for money.
The jury described the Rioja; "Fresh cherry juice, delicate herbal spice, subtle vanilla and cinnamon, blueberry jelly, accessible, open-hearted."
The Puerto del Monte, which was the only Bierzo Mencia in the economical 2-50 – 3.50€ price category, displays "Balsamic notes" and "earthy, black cherry, underbrush, and smoked meat" flavours.
The wines will feature, alongside their certificates in the showroom on H10004 in Hall 13 at Prowein. The full report is available here.