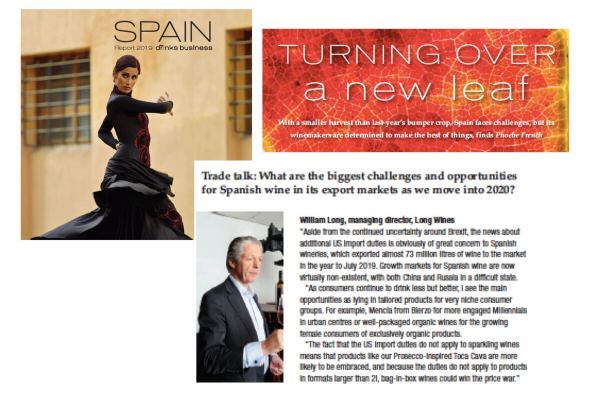 William Long quoted in The Drinks Business Spain Report 2019
2019 ended with the publication of a bumper report on Spain in the UK's leading international drinks trade magazine – The Drinks Business. Managing Director of Long Wines, William Long, was quoted in its lead feature, talking about what he sees as the current opportunities and threats for Spanish wine.
As many other leading trade figures mentioned in the article entitled "Turning over a new leaf", threats from outside the industry are seen as posing the greatest challenges in 2020. William stated: "Aside from the continued uncertainty around Brexit, the news about additional US import duties is obviously of great concern to Spanish wineries that exported almost 73 million litres of wine to the market in the year to July 2019. Growth markets for Spanish wine are now virtually non-existent with both China and Russia in a difficult state. "
Other industry experts also spoke about the need to improve the image of Spanish wine in its export markets where it continues to be associated with value rather than prestige, with increased support required from government bodies.
In terms of opportunities, William spoke of Spain's capacity to meet the growing need for consumer-focused products in the sparkling wine and organic categories, with products such as Long Wines' Prosecco-inspired Toca Cava and Melea Organic and Vegan-certified wine range.
As for the 2019 vintage, as we reported in our November report, the view was very positive, with exceptional quality and a fresher, more Atlantic profile in many areas. Although the quantity was slightly down on 2018's bumper crop, it is in line with historic averages and should continue to make up for any supply issues caused by the low productions of 2017.
Writer Phoebe French finished the article on a positive note, summing up that in a turbulent political climate, "Spain must use its bounty of native grapes, wine styles and price tiers to its advantage."