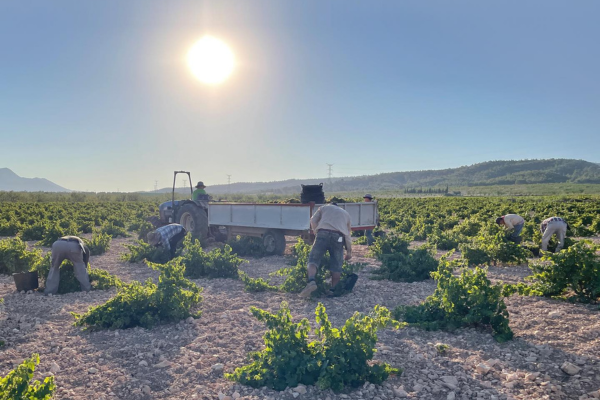 Spanish Wine Vintage 2023: Battling Drought and Climate Challenges
Spain has witnessed a challenging year for vine growers in 2023, marked by an unprecedented spring drought and heavy autumn rain that disrupted grape harvests across the country. The impact of these extremes has left wine producers facing one of the most challenging vintages in recent history.
The year 2023 began on a concerning note for Spain, as it recorded its driest start to a year since records began in the 1960s. The arid conditions were particularly severe in Andalusia in the south and Catalonia in the northeast, where the situation became so dire that a state of emergency was declared in 24 municipalities. To mitigate the crisis, authorities imposed strict restrictions on water usage, reducing it by 80 per cent for agriculture.
Despite a brief respite in the form of rainfall in early September, it proved insufficient to compensate for the losses incurred during the preceding months, and in some areas, the rain fell in torrential storms that caused further issues. Consequently, the wine harvest for 2023 is anticipated to be smaller than ever before.
According to La Semana Vitivinícola, forecasts from cooperatives estimate that the harvest volume in Spain could reach approximately 36 million hectolitres, reflecting a twelve per cent decline compared to the 41 million hectolitres of the previous year. The primary culprit behind this reduction is the relentless drought and heat across the south and east of the country. This unusual heat also caused the harvest to commence earlier than usual, with winemakers in the southern regions starting two weeks ahead of schedule.
However, wine-producing regions influenced by the Atlantic Ocean and the Cantabrian Sea are expected to outperform the previous grape harvest, resulting in increased production in areas such as Asturias, the Canary Islands, Galicia, Cantabria, the Balearic Islands and Navarra.
Nonetheless, these gains may not be sufficient to offset the production losses experienced in key regions like Castilla-La Mancha, which, due to high temperatures, is expected to yield a grape harvest of only 17.8 million hectolitres of wine and must, reflecting a drastic 21.61 per cent decline. Given its significant contribution to the overall production, this drop will have a profound impact on the national outcome.
Other regions also anticipate substantial reductions in production, with Extremadura (2.7 million hectolitres and a decrease of 22.4 per cent), Valencia (2.1 million hectolitres, an 11.4 per cent decrease), and Catalonia (with an anticipated decrease of 28 per cent to just over 2 million hectolitres) all facing significant challenges. On the other hand, Castilla y León is expected to maintain relatively stable production, with an estimated 2.4 million hectolitres.
In terms of sparkling wines, the DO Cava experienced one of its earliest vintages ever, commencing at the end of July. Due to the scarce rainfall, the grapes are noticeably small in size with minimal pulp. Castell D'Or, which produces our De Pró Cava, initiated the harvest in August and anticipates a production drop of 40 to 50 per cent this year due to the extreme drought, particularly affecting the Penedès, Alt Camp, and Conca de Barberà areas. Hydric stress made it necessary to sacrifice of a portion of the crop to ensure the remainder could ripen.
In DO Jumilla, harvest was also very early, with Viña Elena initiating the process in early August with the Malvasia grape. Despite the scorching temperatures and dry farming conditions, the bush vines of this native grape variety have shown resilience, yielding satisfactory results.
DO Rueda experienced an early harvest as well, commencing on August 15th with the Sauvignon Blanc and Chardonnay varieties. The spring's intense heat, with night-time temperatures above 25°C, was counterbalanced by milder summer temperatures, leading to grapes with a balanced profile of acidity and sugar, resulting in moderate alcohol levels.
Conversely, DOCa Rioja has faced a challenging, stop-start vintage. Harvesting began on August 10th with Tempranillo Blanco in Aldeanueva de Ebro, slightly later than the previous year due to cooler nights. However, heavy rainfall at the start of September, especially in the eastern half of the region, brought harvesting activities to a halt. The combination of wet yet warm weather, with temperatures reaching up to 30°C, created favourable conditions for botrytis, compounded by hail in some areas, further damaging the grapes and raising concerns about both quantity and quality.
Fortunately, the DO Ribera del Duero region presents a more positive outlook in 2023, with the harvest commencing on September 18th. While this timing aligns closely with last year's historic dates, increased rainfall and slightly milder temperatures compared to 2022 have facilitated optimal grape ripening. In Castilla y León, where the growing cycle begins later due to colder winter temperatures, the early September rainfall occurred at a more advantageous stage of ripening.
In Galicia, the harvest was also early, with 70 per cent completed by September 19th. Furthermore, the total production is expected to be 6-7 per cent higher than in 2022 due to the addition of new hectares of vineyard. This abundance has led to lower grape prices compared to the previous year, although Albariño from DO Rías Baixas is projected to command a price of €2.80 per kilogram.
We´ll keep you updated as harvest progresses across the country.